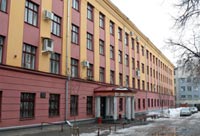 Soyuzkhimpromproect Design Institute was established in 1953. In 1997, it became a part of Kazan State Chemical and Technological Institute (now KNRTU). Institute has highly-skilled professionals for all design activities, having high special technical education and certificated by RosTekhNadzor (Russian Federal Service for Ecological, Technical and Atomic Supervision) for permission of hazardous industrial facility design, also has specialists surveyors and certified professionals experts for expert appraisal of industrial safety. Institute has large experience in cooperation with leading foreign companies, basic project developers and engineering companies. Specialists of institute have mastered and come into use 3D design (Bentley AutoPLANT Autodesk Civil Revit Autodesk Civil 3D).

It's core functions are:

- Designing chemical sites;
- Drafting special sections of design documentation;
- Industrial safety examination of hazardous industrial facilities hardware;
- Expert examination of building structures at hazardous industrial facilities;
- Functioning as a General Design Organization.




Implemented Infrastructural Projects
Steel Cord Truck Tire
Production Plant
Oil Extraction
Plant
Polyethylene
Production
High Octane
Petrol Component
1,2 million pieces/year
Neftegazengineering
1,200 tons/day
Kazan Oil Extraction Plant
230,000 tpa
Nizhnekamskneftekhim
175,000 tpa
OJSC "TAIF-NK"
Main Objects Designed
PJSC «Taif-NK»
The Republic of Tatarstan,
Nizhnekamsk
«TECHNIMONT» S.p.a. ITALY
for PJSC «Niznekamskneftehim»
PLC «Neftegazinzhiniring»,
Niznekamsk
PJSC «Ammoniy»,
Mendeleevsk industrial park
PJSC «Voronehsintez-kauchuk»,
Voronezh
PJSC «Kazan Synthetic
Rubber Plant»
PJSC «Nizhnekamsk-neftehim»,
Nizhnekamsk
PJSC «Voronezhsintez-kauchuk»,
Voronezh