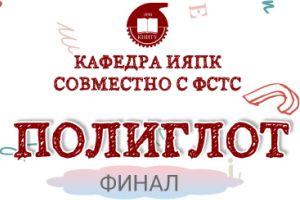 The Department of Foreign Languages in Professional Communication in cooperation with the Faculty of Socio -Technical Systems announces a casting for participation in the competition "Polyglot"
---
18.12.2017


Our university is going global and English language learning is a priority. One of the goals of our university is supporting internationalization initiatives. The contest is held to facilitate language learning, to support the best students and to motivate students to learn foreign languages.

Casting will be held on 11, 13 and 15 of December at 17:30 at Popova, 10 (building G, auditorium G-518). To pass the audition, you must: 1) assemble a team of 5 people 2) prepare a video on the topic "My faculty" in advance.The video must be in English (no more than 3 minutes), an interview with the Dean's office staff in English is allowed. Students of the internal form of training can participate in the competition. The final competition will be held on December 21. At the end the winners will be chosen in three categories: 1. the most linguistic team, 2. the friendliest team, 3. the people's choice award.

Detailed information by phone 8 922 8986 54 14 Ludmila Pavlovna Dulalaeva.

AUTHOR: KNRTU