Beijing University of Chemical Technology (BUCT) is one of the leading universities directly affiliated to the Ministry of Education of the People's Republic of China, one of the First-Class Disciplines Initiative members, one of the Project 211 Universities and one of 985 Project Innovation Platforms.


BUCT and KNRTU are two partners enjoying long-term friendly relationships since 2012. On June 29, 2022, was signed an Agreement on Double Degree Program between Universities. According to this Agreement KNRTU students from Institute of Polymers, who successfully completed 2 years of their Bachelor's program at KNRTU, have an opportunity to continue their 3rd and 4th years of studies at BUCT.

The program provides students the opportunity to:
- Gain an international outlook
- Learn Chinese language and culture
- Sharpen career competencies
- Internship at the enterprises
- Build up innovation capacity through an interdisciplinary approach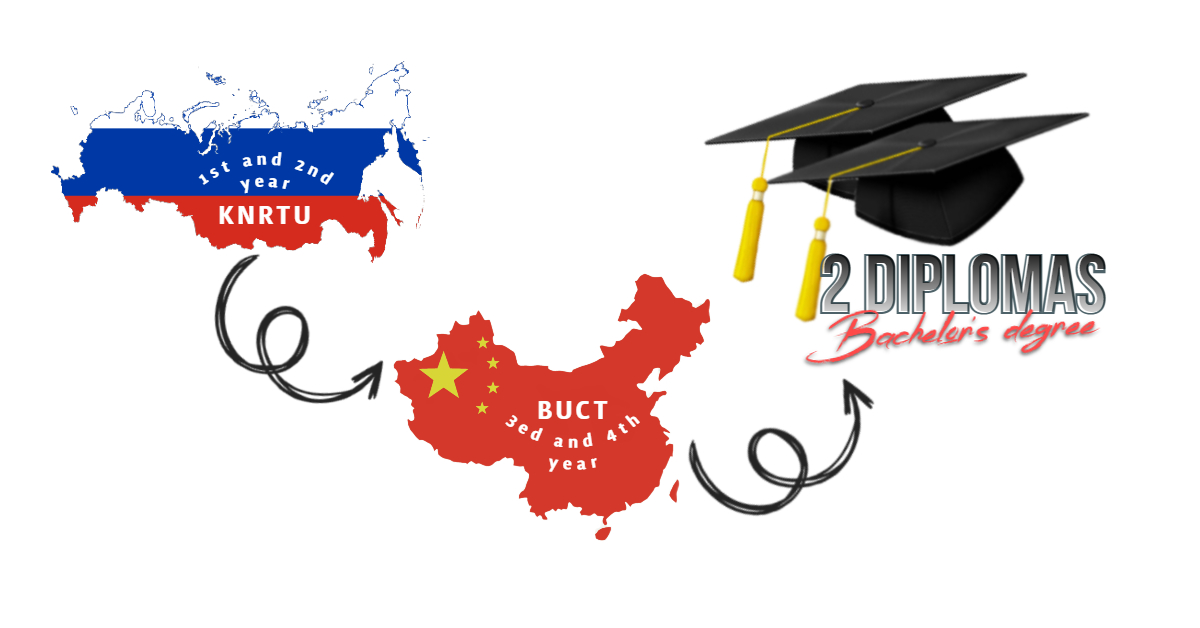 Learning Language:English

Student Requirements:
1. High GPA-score.
2. English proficiency of at least B1 level(IELTS and TOEFL certificates are not required)

Tuition fees: 20.000 yuan per year
Accommodation: from 70 yuan per day

According to academic performance, student can get a discount for studying at BUCT:

| ACADEMIC PERFORMANCE | TUITION |
| --- | --- |
| 4.5 out of 5.0 | FREE |
| 4.0 out of 5.0 | FREE |
| 3.5 out of 5.0 | 50% discount |
SUBMISSION STAGES


Step 1: Collection of necessary documents and their submission to International Affairs of KNRTU (A-236);
Step 2: Registration of the online application at http://study.buct.edu.cn;
Step 3: Review of the application by the BUCT expert committee and selection of candidates for an interview for the program;
Step 4: Online interview with BUCT representatives;
Step 5: Enrollment.

DOCUMENTS TO BE SUBMITTED


1. High school diploma and academic certificate for the previous 2 years of study at KNRTU (certified in Chinese or English languages);
2. Cover letter from KNRTU;
3. Certificate of English language proficiency (possible from KNRTU);
7. Completed online application form;
5. Passport;
6. 2 photos 3.5 by 4.5;
7. Medical certificate;
8. Police clearance certificate.